AFTER THE BLACK SQUARES: HOW BLACK-LED FASHION ORGANIZATIONS ARE HOLDING INDUSTRY ACCOUNTABLE. In the wake of the Black Lives Matter movement, the Black in Fashion Council, the Fifteen Percent Pledge, The Kelly Initiative, and the CFDA Black Advisory Board give a progress report on what's changed and how the industry is keeping its word.
BY BARRY SAMAHA
June 2 is a day that will live in Instagram history (or maybe infamy). Black tiles flooded Instagram feeds as part of #BlackoutTuesday, a social campaign to raise awareness for the Black Lives Matter movement. George Floyd, a 46-year-old Black man, had been killed by Minneapolis police just a week earlier, sparking protests across the nation and demands for change. Calls for an end to systemic racism, police brutality, and white supremacy were loud and righteous. So #BlackoutTuesday, a hashtag that was posted around 28 million times, went viral.
Many companies participated in #BlackoutTuesday, including countless fashion brands. However, the move struck many—particularly Black and Brown people who work within those companies—as performative. It felt disingenuous, especially coming from an industry so entrenched in systemic racism, like a moment of optical allyship that didn't go far enough.
"We can't just go back to posting black squares and going about our business," says Sandrine Charles, a New York–based public relations consultant. "We have to acknowledge what's really going on."
This past June, Charles, along with several other Black fashion professionals, launched a slew of initiatives to create a road map for accountability within the fashion industry. Charles and Teen Vogue's editor in chief, Lindsay Peoples Wagner, cofounded the Black in Fashion Council, with the goal of creating a system that would measure the level of inclusivity within a company—one that mirrors the Corporate Equality Index that the Human Rights Campaign uses to benchmark issues pertinent to those who identify as LGBTQ+.
Aurora James, designer and founder of accessories label Brother Vellies, instituted the Fifteen Percent Pledge, an advocacy initiative that urges major retailers (not just those in fashion) to commit 15 percent of their seasonal buy to Black-owned businesses to reflect the 15 percent of the country that identifies as Black.
Fashion industry vets Kibwe Chase-Marshall, Henrietta Gallina, and Jason Campbell launched The Kelly Initiative, named after designer Patrick Kelly, in June with the demand that the Council of Fashion Designers of America meet to consider implementing an industry census and audit of fashion's headhunting and recruitment sector. Months later, the CFDA formed a Black advisory board to guide the trade organization and its members toward sustainable diversity and inclusion efforts, and to develop programs that provide opportunities for Black talents. Spearheaded by CaSandra Diggs, the newly appointed CFDA president, the board includes Harper's BAZAAR's own Samira Nasr.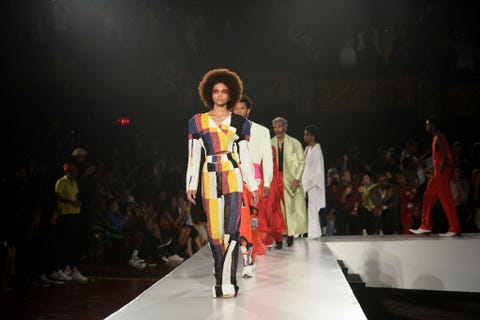 FERNANDA CALFATGETTY IMAGES
Three months later, the industry is now in the middle of fashion month, the biannual circuit from New York to London to Milan to Paris, during which brands present their collections to buyers and press. It's a fitting time to take stock of the industry. Here, we check in with each of the four organizations to get their takes on how—or if—things have changed since June, and what they're up to now.